Welcome to the Placerville Elks Lodge
California Fires and Victims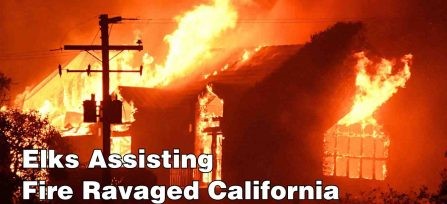 As you know, California has been ravaged by recent wildfires. Our neighbors to the north in the town of Pardise have been devastated by the entire town being burned to the ground. At this date 58 people have lost their lives and more than 10,000 structures have been lost, including the Paradise Elks lodge #2026.
Donations of goods and clothing items has been fantastic and now the need is for financial support. If you can make a financial donation, please make your check payable to:
Chico ELks Lodge 423, with memo indicating "Paradise Elks-Fire victims"
Mail check to Chico Elks Lodge, 1705 Manzanita Ave. Chico CA 95962.
These donations will be used to directly support Elks Member victims of the Paradise lodge.
Thank You for your support and God Bless
Placerville and Vicinity
The area around our Lodge is especially beautiful during the spring thru the fall. Within less than a one hour drive there are many things to do. To the north there is Coloma with the Gold Country Setting of Sutter's Mill. In addition, the American River offers Kayaking and white water rafting with a collection of hiking trails. To the south in the Somerset area, there are a number of local small wineries who offer tasting tours, with a large selection of moderately priced wines! Less than five minutes away is one of the newest Indian Casinos, Red Hawk, that offers a buffet meal that is second to none. Downtown Placerville, known from the gold rush days as "Hangtown", is ten minutes away to the east.
During the late spring, summer, and early fall we have monthly "Burn Your Own Steak" dinners on the first Friday of the month. In addition to Monday Night Football the lodge offers pot luck on every Wednesday, Thursday night dinners, and all Friday nights are burger nights, excluding "Burn Your Own Steak" Fridays.
(Click on image to enlarge)

Lake Tahoe
Slightly over an hour's drive from Placerville is spectacular scenery as seen above. Starting at approximately 2,000 feet in elevation at Placerville, the highway crests the Sierra Nevada at over 7,300 feet at Echo Summit. Depending on the season, the area is famous for hiking, boating, fishing, and skiing.