Lodge News
October 2020 Message from ER Regina Stephens
My Fellow Lodge Members
Another month and just when we think we are gaining ground on the COVID 19 virus, we have cata-strophic fires burning throughout the state. Thankfully, even though we have had to endure the smoke, the

We had our first Sunday Breakfast on the patio last month and by the time you read this we will have had a second one. It was great seeing everyone!! And, the food was great. Many thanks to everyone involved whether eating, serving, preparing the patio or cooking. Bob and Debbie Logue loaned us two huge umbrellas that kept the area nice and shady.

And, we had a Purple Pig event on 9/11 to raise money for handicapped children. Darla and John Quaresma, along with Eileen Baughn, deserve a big round of applause for a job well done!! What a great idea that was.

Our Wednesday and Friday take-out dinners continue and again, we thank all who participated as well as those who work so hard to make it happen.

Our Lodge has just completed the first full year of solar. PER, Jack Warf, has put in many hours and is working with Megawatt Solar and PG&E to reconcile our usage and the end of the year "true-up." Our Auditing and Accounting Committee is also pouring through the numbers to get a full picture of the financial impact of the solar.

A lot of hard work is going on behind the scenes that is very much appreciated. Unfortunately, we discovered a serious breach in our Lodge security. (see article, page 5) Extensive steps have been taken to restore our Lodge back to a secure and safe facility.

Stay safe, happy & healthy,
Regina Stephens, Exalted Ruler
Americanism Essay Contest Awards Dinner 2020
On February 27, 2020, Placerville Elks lodge held the Awards dinner for the Americanism Contest winners.

Lodge Events Coming Soon
Drive Through Take Out Meals, Wed/Fridays in September/October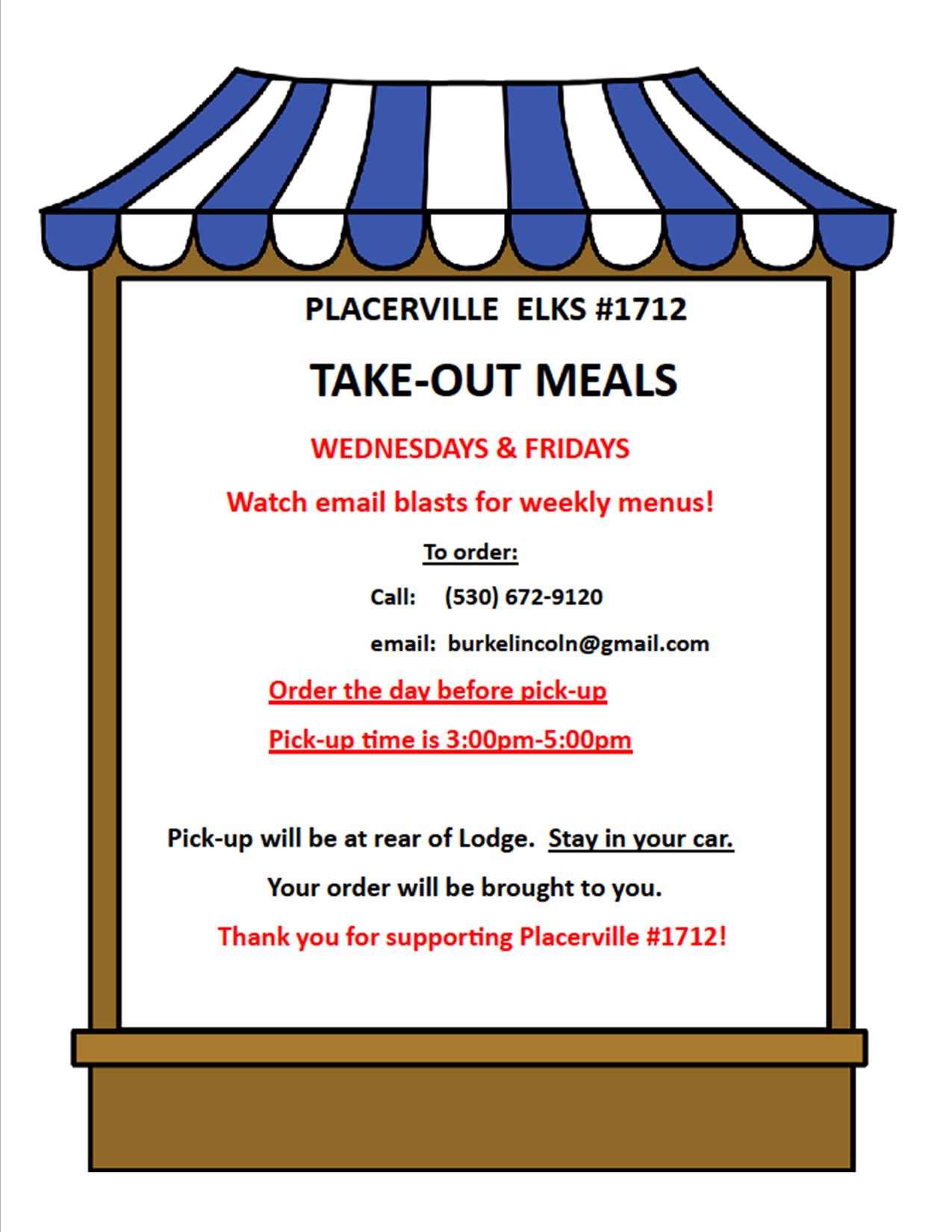 The lodge is providing a Drive Theough Take out meals service every Wednesday and Friday for the month of June. You must order you meal(s) the day before by calling 530 672-9120. The meals are available for pick up between the hours of 3-5PM. Please stay in your car and the meals will be delivered to you. The cost of each meal is $10.00 Thank-you for your support and stay well.