Lodge Events & News
February 2019 Message from Exalted Ruler Dan Enright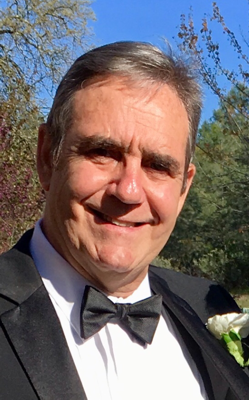 What an extravaganza New Year's Eve party we had at the Lodge! East coast to West coast with the ball dropping at 9:00pm and again at 12 midnight! The pot luck provided an overwhelming amount of food from enchiladas, chicken, rice, salads, hot beef to an assortment of sweets and desserts. The evening accommodated those that preferred to leave at 9:30pm and the party animals that stayed to 1 am. It was an evening of Profit!!! Many of our new members were able to experience the 11 o'clock toast for the first time and were very impressed how Elks are never forgotten. It surely was a memorable event for those who were able to attend. For those who missed it, you missed a great one but will have an opportunity to make it next year. ...
I want to thank Carl and Ellen Reppert for the decorations and net of balloons that dropped at midnight! My first lady, Elisa Enright for providing the venue of music for all to enjoy; and Joni Morris and Kathy Lopez for serving the bar and bringing their excitement and tag teaming enthusiasm throughout the evening. I also want to thank Carl Jeffery and those who helped with set up and cleanup which made things run smoothly. Lastly, thanks to all the members who attended and pitched in where needed.

By the time you read this gazette we will be nearing February, our second month of 2019! Where did January go? It seems like each year passes more quickly than the last and before you know it, 2020 will be here.

This year we will be focusing on the fiscal bottom line to ensure our Lodge remains solvent and operational. With the unexpected sewer and HVAC repairs we had in 2018, it will require us to be fiscally responsible.

We are very excited about the implementation of our solar farm on the adjacent lot, which we are expecting to deliver a considerable cost savings to our exorbitant utility cost. We are very grateful to SENGA Corp in working with the county on permits, design and the solar installation.

In February, we will be electing a new team of officers. We are looking to fill every position and are expecting for our members to run. There is plenty of opportunity for our new and enthusiastic members to get involved. Are you interested in a committee chair or Knights position? Do you think you have what it takes? Do you have ideas, recommendations or concerns about the Lodge you would like to share? Remember the Lodge is YOUR Lodge and it is a place to enjoy one another, share comradery, have fun and participate.

My term as Exalted Ruler will be over at the end of March 2019. That being said, there is still much work to be done and a lot of fun still left to enjoy. We have the Crab Feed Dinner (1-26) hosted by Jack Vranes, Dinner and Concert Barbershop Quartet (2-2) hosted by Regina and Jim Stephens, Valentines Dinner Dance (2-8) hosted by Dan and Elisa Enright and St. Patrick's Dinner Dance in March.

I want to thank all those who have given so generously to our Lodge for their effort, sweat, donations, and passion of service. This includes the Bar, Kitchen, all Committee members, Gazette producer, the Officers and Board members. Lastly and most importantly to our members who participate in both deed and action.

Our Lodge members are the true hallmark of "Elks Care Elks Share". I want to wish each and everyone of you a healthy, blessed and safe New Year.

We are extremely grateful to all our Lodge Volunteers!!

Fraternally,

Dan Enright

Exalted Ruler - Placerville Elks Lodge #1712

Lodge Events
Americanism Awards Dinner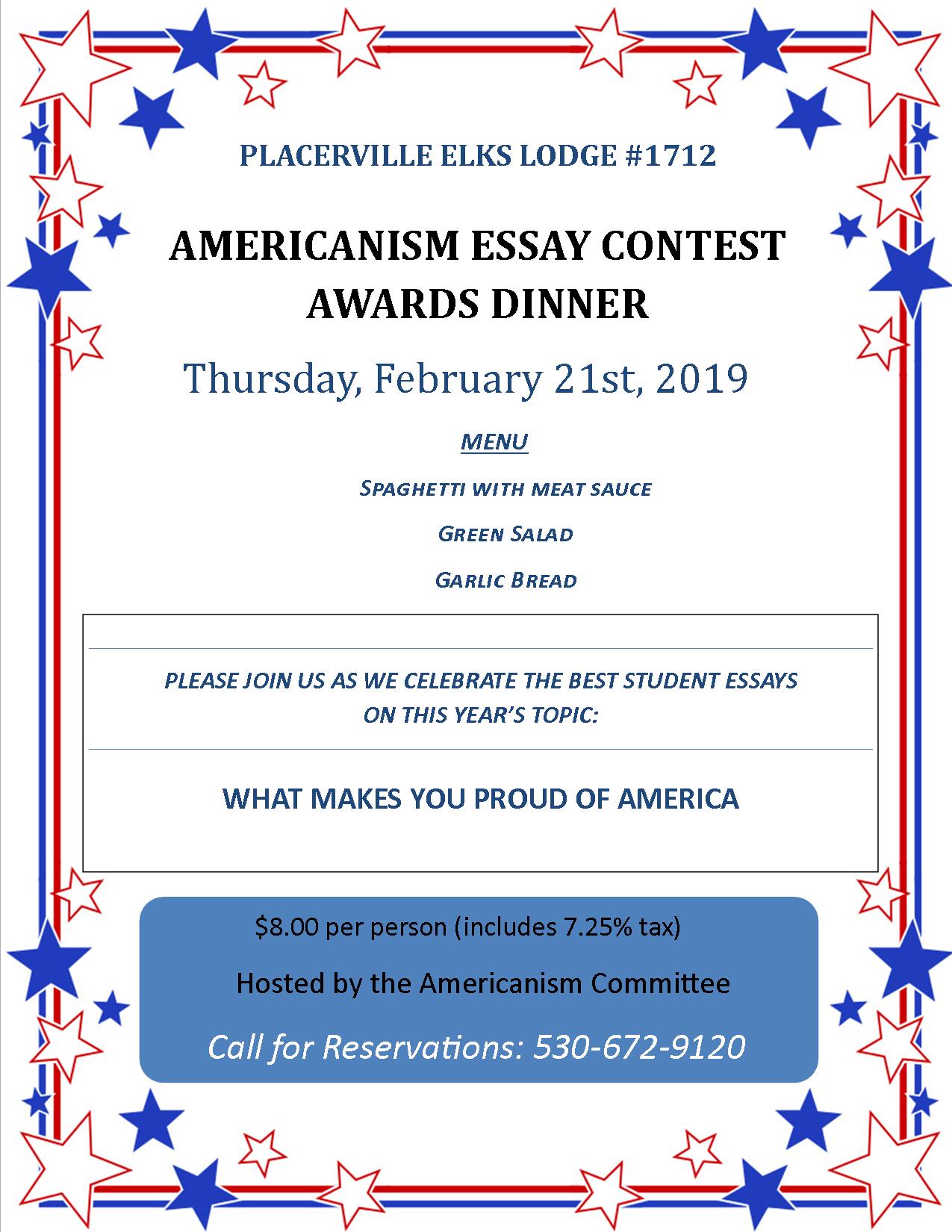 On Thursday February 21, 2019 The Americanism Commitee will present awards to this years essay contest winners In addition, awards will be presented to poster contest and hoop shoot conest winners. The dinner of Spaghetti with meat sauce, green salad, garlic bread and ice cream will start at 5pm. Please call the lodge to sign up. 530-672-9120.